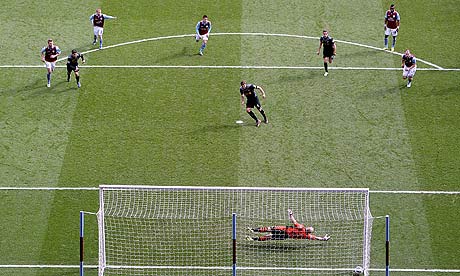 This weekend we head to Villa Park. Last year we had success here, winning the match 2-1 after falling behind due to the 31st minute strike by Christian Benteke. On the day Henderson scored, and Gerrard converted a penalty. This game was played three and a half months after the humiliating defeat we suffered at Anfield. The 3-1 loss was due to Villas shocking speed and commitment to playing on the counter attack. Reina was beaten by Benteke twice and Weimann scoring between the two. Gerrard scored a late consolation goal, but the loss broke our two game winning streak.
The Reds are looking to continue their good form after their 1-0 win over stoke last weekend. We are currently sitting in 7th on the table due to goal differential and alphabetical order. With a win for us we could be propelled into the top 4, granted there will have only been two games played for most teams. The key things to look out for in this game for Liverpool fans are as follows.
~Our movement both on and off the ball: With Coutinho hopefully playing in the center behind Sturridge, he will be able to do what he does best, which is to wriggle free from challenges and find Danny in behind the defense.
~ Possession: After watching Villa play both Arsenal last weekend and Chelsea on Wednesday I noticed a trend of Villa "Parking the Bus". That means we should be able to command the lion's share of the ball on Saturday. In the two matches last season, in the loss we had the ball for 72% of the game, and in the win we had only 53% of possession. This shows that after the loss (attributed to not being able to finish or defend, even though Villa had the ball for roughly 25 minutes of the match) we learned that against Villa playing a lot more direct pays dividends.
~ Our midfield: We will hopefully be fielding a strong midfield this weekend. I would like to see a midfield 5 of Enrique, Lucas, Gerrard, Coutinho, and either Johnson. We would have our "normal" core of players, and Enrique and Johnson would play as wing backs on the flanks.
There are two things that we need to be weary of this Saturday however, Benteke, and the long ball. In both games that Villa have played this season they seemed to just lump the ball forward towards Benteke, who in turn just heads it on to someone else or brings it down and holds it up. There are things we can do to prevent this eventuality though:
~ Have someone always marking Benteke: this would solve the problem, however that would very easily tire out one (or more) of our defenders.
~ Press very high up the pitch: This is another reason I would have a midfield 5 instead of running a 4-3-3. With Enrique and Johnson added into the midfield we should be able to pressure the Villa defenders to the point where their long balls become ineffective.
I would run a 3-5-2 in the first half, to contain Benteke and Weimann and attempt to keep them from getting any service.
-----------------------------Mignolet-----------------------------
--------------Toure----------Kelly----------Agger--------------
---------------------Gerrard---------Lucas-----------------------
Johnson---------------------Coutinho------------------Enrique
------------------Aspas--------------------------------------------
------------------------------------------Sturridge----------------
I would go with Kelly in this formation just so we have our fastest defender in the middle of the pitch, so that should a long ball make it to Benteke he cannot head it on to Weimann.
Predicted Outcome: Aston Villa 1-3 Liverpool
I am predicting a rather sizeable victory for us due to Villa playing 10 starters in their game against Chelsea on Wednesday. Once we reach the final third of the game I am guessing that most of their starters will be tired out.